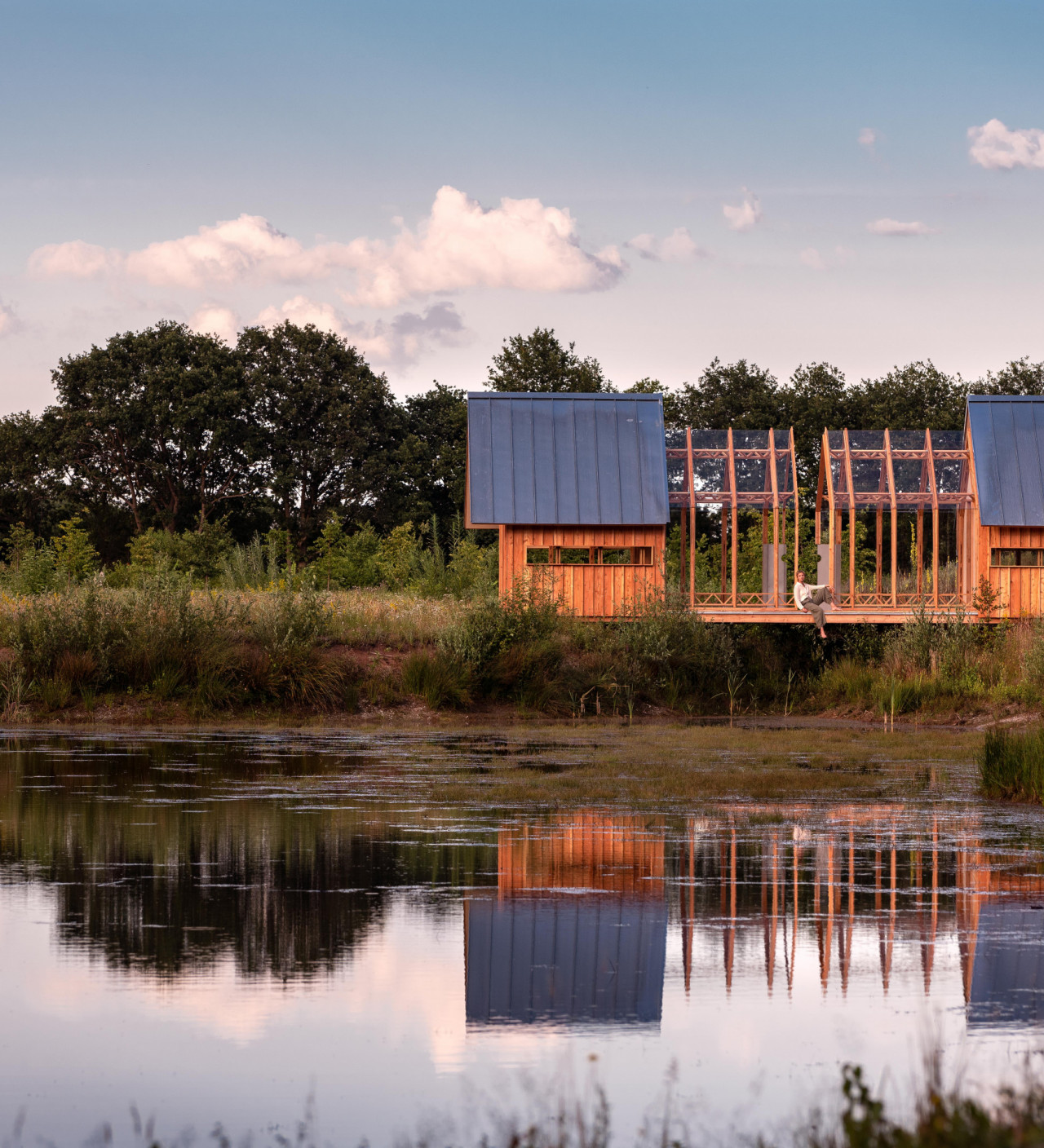 Let
nature
be
your
teacher
ANNA Meet
Be inspired to create
Everything we see, hear, and feel in nature captures the imagination. Nature inspires us to create, to change. Through history, nature has always been our greatest source of inspiration. It shaped our cultures, our beliefs, who we are. Nature speaks to the soul in ways nothing else can. Open to the elements and let nature be your teacher.
Creative open platform
Thanks to its ability to adapt and change, ANNA reflects the beautiful changes taking place outdoors. Connect with your surrounding nature and spark your imagination. Follow the rhythm, patterns and reflections of nature and unleash the potential of your ideas.
Enjoy pleasant company at a dinner with friends, colleagues, or family. Do masterclasses, hold business sessions, submerge in yoga classes, or even make ANNA Meet your office. In the appropriate setting, ANNA Meet is the ultimate spot as a landmark place to host people you want to coach, inspire or educate.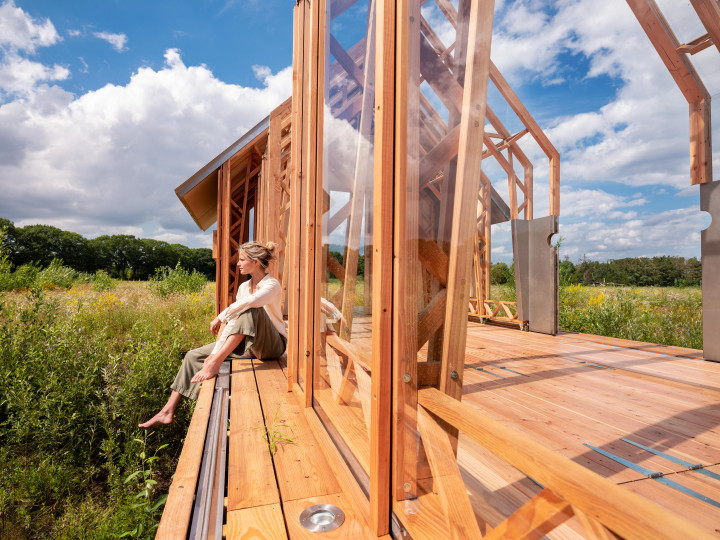 ANNA Meet in short
ANNA Meet is a creative open platform that connects people with nature. The versatile cabin has four different sliding shells which allow you to create various setups for different occassions. ANNA breathes, listens, and feels.
Designed for creative sessions, meetings, and gatherings;
Qualified for a wide range of climates and weather conditions;
On-grid with stylish amenities;
Also available in a self-sufficient off-grid version;
Designed and built with minimized impact on nature.
Delivery in 2022. Final pricing to be announced. US patent approval is pending.
Flexible as clothing
ANNA Meet is especially developed for creative sessions, meetings, and gatherings. The cabin has four different 'shells' as outer walls, supported on rails. The inner walls consist of a framework of wood and glass and are separated from the roofed wooden outer walls. By shifting the shells, different setups are possible to align with your mood, the occasion or weather conditions. Just like the way you adjust your clothes.
Premium materials
For the construction, only high-quality natural materials are used. The outside is made of sustainable Siberian larch wood. On the inside, birch plywood has been used for high quality and its light colour. Most wood is left untreated and saw dust is used for insulation. The four layers are carried by eight industrial wheels each, guided on supporting rails.
Customised facilities
ANNA Meet is an open platform where anything can happen. It allows for additional customised options to be included, such as exhibition panels, an outdoor (compost) toilet, an indoor modular table configuration, a fully furnished drinks corner and plenty of storage space.
Easy foundation
Due to its quick assembly, it is suitable for the most secluded areas. The cabin is surprisingly light weighted so, in most circumstances or locations, does not need an additional base foundation. Some soil types may require a screw foundation, which can be installed in about 1.5 hours and just as easily removed after cabin ANNA finds a new location.
Authentic structure
ANNA Meet derives its stability from a unique structure that has its origin in buildings such as railway stations, which rely only on the side walls for structural integrity. That's where the beautifully crafted wooden trusses come from.
Flexible transportation
ANNA Meet is a reproducible cabin that can be flexibly assembled and disassembled anywhere in the world. The cabin is designed so that it can be delivered either in one piece or as a flatpack fitted in a container.
Quick assembly
The cabin is manufactured to minimize time on-site. On-site work is done by an electric spider crane. The whole cabin can be remounted and relocated any time. In a flatpack, ANNA Meet can technically be built at any location in the world.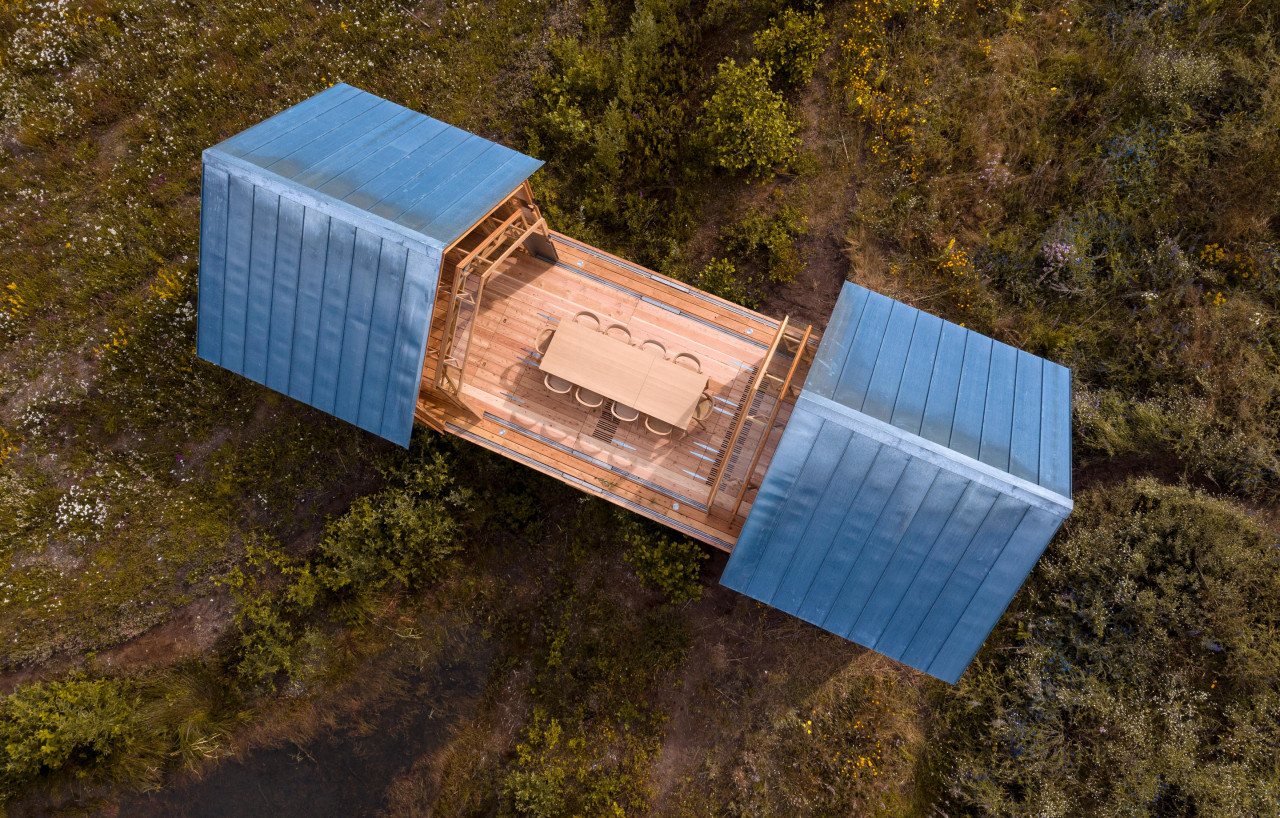 Availability and pricing
In 2022 we will be accepting the first reservations to buy ANNA Meet. Subscribe to the newsletter to receive the latest updates on pricing and availability.
Frequently Asked Questions
Availability and pricing